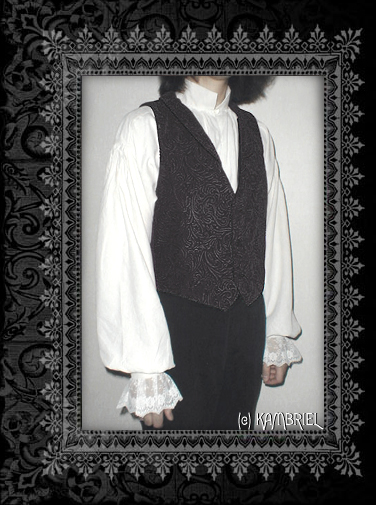 This romantic cavalier styled shirt is loosely fitted with billowing sleeves which have pleats at the shoulder yoke and gathers at the lace trimmed cuffs (lace at the cuffs can be left off by request). This shirt made in your choice of black or white, features a high collar and front opening which the body of the shirt gathers into. It is perfect to wear with our coordinating waistcoats, jabots, and ascots. Click here to see an example. The stiff cuffs and stand up collar details lend an authentic period look and feel ~ This shirt's style will go from the elegant swordsmen of the tales of Alexandre Dumas to High Victorian depending on what you choose to wear it with.

Shown with an 18th Century Waistcoat.

Aramis Shirt ~ $135


If you prefer to order with cash, check or money order, click here.