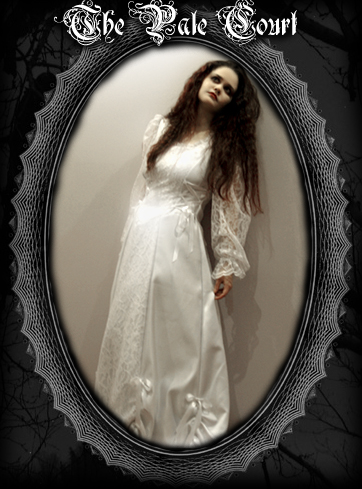 Pale Court Bridal Gown

This lovely princess seamed gown was featured in the Convergence 12 fashion show in New Orleans. It is made from white matte finish satin with a center panel of lace overlay, and fit for a princess ~ featuring a rounded neckline trimmed in cotton lace and full cut lace sleeves which are gathered into ruffles at each wrist. The side seams and back of the bodice all feature satin lacing to customize the fit, and the long, full skirt is gathered here and there with each gathered section being topped off with yet more satin ribbon. The chest measures approx. 35 1/2", and the overall length from shoulder to hem in front is 57 1/2", and the length in back is 64 1/2". The waist area is very adjustable due to the lacing, and can range anywhere between 24" and 32".

Scroll down for another view of the gown.

Pale Court Bridal Gown ~ Sold!