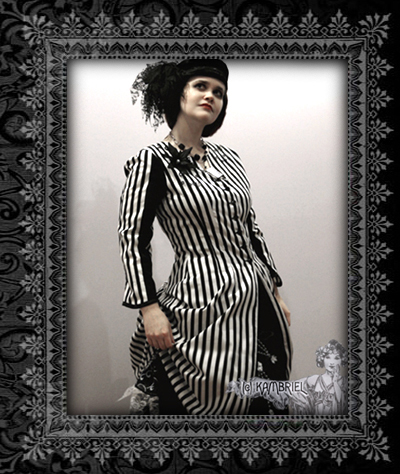 This striped neo-Victorian bustle jacket was originally created for Amanda Palmer of the Dresden Dolls. It provides an extremely flattering silhouette, while still being surprisingly comfortable to wear. The jacket is made from black and white striped cotton (widths of stripes may vary somewhat depending on availability) with optional contrasting accents of solid black rayon on the sleeves. The v-shaped trimming on the back, adds a dramatic flair while accentuating the waist. It buttons up the front with black buttons, has a V-neckline, along with a bustled back created by artful pleatwork at the sides. (Shown being worn here with a black flower corsage which is not included.)

~scroll down for other views~

You can also view photos of Amanda Palmer wearing her Cabaret Bustle Jacket in the Kambriel customer gallery.

If you prefer to order with cash, check or money order, click here.