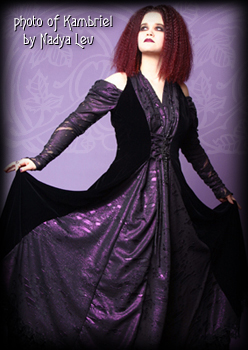 Couturier Artist Writer

As Kambriel wrote for the introduction in her premiere collection's printed catalogue in 1994 - one of the original gothic fashion collections, "Being true to yourself is more of an internal quest, but everthing that is buried deep inside rises to the surface eventually. This is where we come in... the reflection of your inner-self onto your outer-self. Clothing that brings you a little closer to your dreams."


Called "Queen of couturiers" by author Neil Gaiman, Kambriel's design work has been featured in the New York Times (in an Edward Gorey inspired feature that also included the work of Tim Burton, Neil Gaiman (Coraline), and Daniel Handler (Lemony Snicket). Kambriel was personally invited by Dr. Valerie Steele as one of the designers to be featured in the highly lauded "Gothic: Dark Glamour" fashion exhibit at the Museum at FIT in NYC, and was personally interviewed by Dr. Steele for the corresponding "Gothic: Dark Glamour" book which commemorated this special curated collection where Kambriel's designs were displayed alongside those of Alexander McQueen, John Galliano, Jean Paul Gaultier, and a veritable who's who of icons of the couture world. Kambriel's designs were also selected to promote the official exhibit opening for Fall Fashion Week in NYC in Time Out New York's "Own This City" feature, as well in the official Museum at FIT exhibit brochure, worldwide editions of the "Gothic: Dark Glamour" book, Elle Magazine, The Globe & Mail, and other national & international publications.


Kambriel was awarded the AltFashion (UK) "International Designer of the Year" award, Gothic Beauty's "Designer of the Year" award. Kambriel was the official costume designer for a major Edward Gorey inspired theatrical dance performance for the Boston Celebrity Series which went on to tour on multiple continents overseas. Kambriel's designs have also been featured in a theatrical production of Oscar Wilde's "Salomé", and at the Animal Rescue League of Boston's premiere "Moonlight Ball" charity event.


Kambriel's created custom designs for a wide range of clients throughout the years, ranging from comedienne Margaret Cho to punk cabaret chanteuse & author Amanda Palmer, along with Information Society, Faith & the Muse, Neil Gaiman (who has been outfitted in his trademark black coats & jackets by Kambriel for more than a decade, including the original bespoke pieces Neil wore on the Oscars red carpet while attending for the Academy Award nominated film "Coraline"), and many others throughout the years.


When friend & fellow independent designer Laura Purdy of The Pale Court died tragically young, Kambriel volunteered to complete all of Laura's unfinished work. She spent an entire year sorting, puzzling together and finishing them all, then photographed the collection in the wilds of the Cornish countryside (a place Laura longed to see) for a fashion editorial as well as organizing a tribute fashion show in New Orleans to preserve Laura's memory and the legacy of her designs.


Kambriel's theatrical fashion show vignettes have been performed across the country from Salem, Massachusetts (where Kambriel's show was filmed by the Discovery Channel), to NYC, NY - Toronto, Ontario - Tampa, FL - Portland, OR - Seattle, WA - Cambridge & Boston, MA - Chicago, IL, and more.


Kambriel's designs have been described as being "too beautiful for the red carpet, there needs to be some kind of ethereal gold and silver carpet that shifts colors at will."


Kambriel Fashion Shows

(1996) Convergence 2 - Boston, MA
(1998) Danse Macabre 2 - Cambridge, MA
(1999) Out of the Blue - Middle East Club - Cambridge, MA
(2001) Convergence 7 - New York City, NY
(2001) Dark Harvest Festival - Cambridge, MA
(2002) Reverie Anniversary - Cambridge, MA
(2002) Sudbury Newcomers - Weston, MA
(2002) Ceremony "Night of Fashion" - Boston, MA
(1996-2003) Annual Salem Vampire's Ball - Salem, MA - Kambriel's 1996 fashion show was broadcast on "The Discovery Channel".
(2004) Convergence 10 - Chicago, IL
(2005) Black Sun Fest - New Haven, CT
(2007) Phoenix Parade - Portland, OR
(2007) The Moonlight Ball - Boston, MA
(2008) Convergence 14 - Ybor City, FL
(2010) SteamCon II - Seattle, WA
(2011) Salon Noir - Toronto, Ontario
(2012) 19th Century Extravaganza - Brooklyn, NY

View photos of our fashion shows here.


Authors

Neil Gaiman
Custom jackets created for various event appearances, and personal use.

You can see photos of Neil Gaiman on the Oscars red carpet in our customer gallery.

Caitlin Kiernan
Catherynne M. Valente
Cherie Priest
Monica Byrne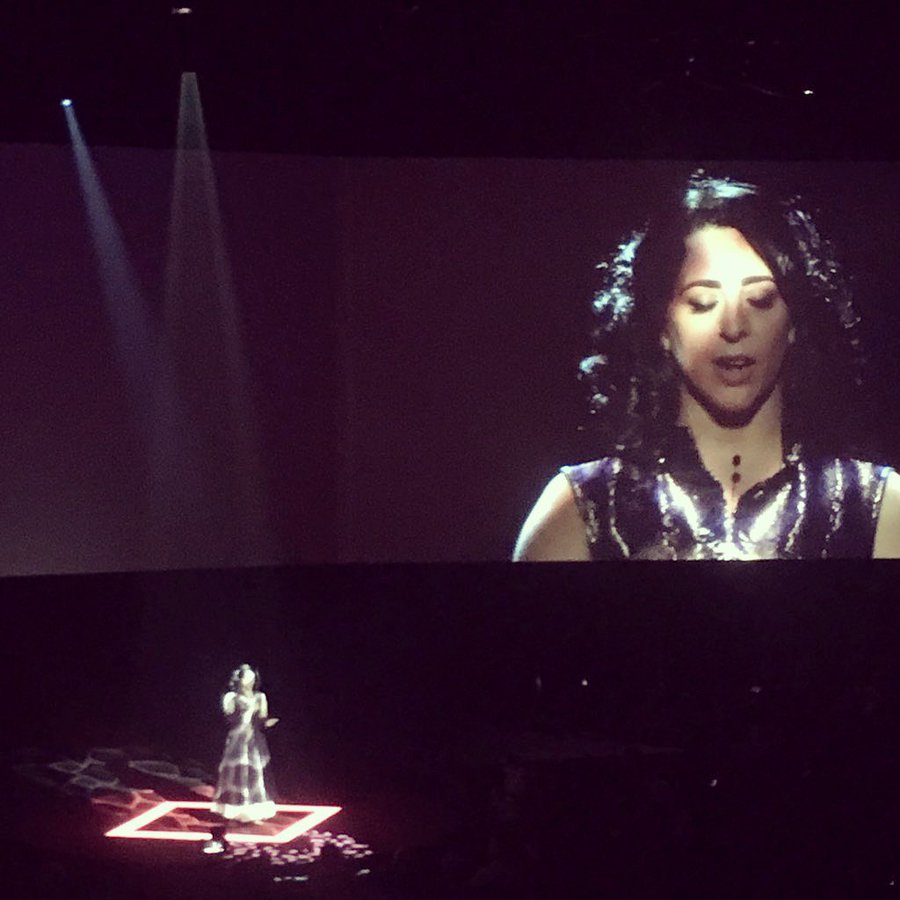 Original Designs for Bands / Musicians
Faith and the Muse
The Machine in the Garden
The Dresden Dolls (Amanda Palmer)
Mors Syphilitica
Reliquary (Kara)
Black Tape for a Blue Girl (Lisa Feuer)
Mephisto Walz
Judith (Christopher David)
Curse (Mikaela)
Click here to see our Faith and the Muse Gallery,
or here for our Customer Gallery.
Comedy
Margaret Cho
Various outfits commissioned for on-stage performances, awards galas, and personal use.
You can see photos of Margaret Cho in our customer gallery.
Film and Theatrical Costume Design
"Salome" by Oscar Wilde - Boston stage production
"Hamlet" - Rebel Shakespeare Company
"A Midsummer Nights Dream" - Rebel Shakespeare Company
"Romeo and Juliet" - Rebel Shakespeare Company
"The Corridor" inspired by H.P. Lovecraft - upcoming independent film release
"The Temperamental Wobble" - A full scale dance theatre piece based on the art and humour of Edward Gorey - This work was premiered in Boston, MA and is now a touring work, performing in locales such as Tokyo, Japan.
Salome costume photos
Click here for a selection of costume photos from the Gorey Production!
Kambriel's work has been featured in these Periodicals and Websites

The New York Times - USA
The Boston Globe - USA
Time Out New York - USA
Fashion Week Daily - USA
Elle.com - USA
New York Social Diary - USA
Gothic Beauty - USA
Dark Realms - USA
Newgrave - USA
Malevola - USA
Tear - USA
Ascension - Italy
Crimson - England
Devolution - England
Gothic Magazine - Germany
Blood Stained Tears - Germany
Gothic Grimoire - Germany
The Mercyground - USA
The Sentimentalist - USA
Morbid Outlook - USA
Tattoo Savage - USA
Sheltered Life - USA
The Globe and Mail - Canada
Comatose Rose - Canada
Amongst the Ruins - Canada
For a few samples of articles on Kambriel, please see our press/articles page.