We are in the process of extensively updating this page, so please be patient as it evolves. Thank you!

Newspapers
New York Times (NYC, NY) article on the art and influence of Edward Gorey, featuring Kambriel, Neil Gaiman, Daniel Handler, and Tim Burton.
Dery, Mark, "Nightshade Is Growing Like Weeds," The New York Times, March 6, 2011.
Photo of Kambriel in the Moiré Midnight Bustle Ensemble with the caption "Right, Gorey has inspired fashion designer Kambriel."
"Undoubtedly such romanticized visions of a more decorous, dapper past which also inform the neo-Victorian and neo-Edwardian street styles of goths and steampunks, have much to do with escapism as historical fact. But accurately or not, such subcultures see in Gorey's work an invitation "to return to a time of gentility," to quote the promoters of the annual Edwardian Ball, a celebration of Gorey. In contrast, some fashion designers see Gorey's anachronistic use of historical references as perfect for our age of mash-ups and remixes. The neo-Victorian couturier Kambriel, whose shows have featured Gorey-inspired sets and models reciting Gorey limericks,said that in her designs, as in Gorey's tales, "the propriety of the past" is infused with the "playful mischief and irreverence" of the present."
Globe and Mail (Canada) article "Mourning Glory", illustrated with an iconic Kambriel design to coincide with "Gothic: Dark Glamour" fashion exhibit at the Museum at FIT.
Smith, Russell, "Mourning glory: A grandly theatrical exhibition in New York turns eyes once again to Goth culture," The Globe and Mail (Toronto, Ontario), September 25, 2008.
A large photo of Wednesday Mourning in the Isabella Coatdress with the caption "A dress by designer Kambriel, on display at New York's Fashion Institute of Technology. Nadya Lev"
A charming write-up on Kambriel in event dispatch for Steamcon (Seattle, WA).
Madame Charité, "Couture: Tempests In a Tea-Pot", Steamcon II (Seattle, Washington), November 19-21, 2010.
Kambriel
"The bon ton of Steamcon are a-twitter at the arrival of fashion creatrix Kambriel, together with her fantastical traveling wardrobe of exotic attire. The indiscreet have been heard to whisper that each garment in her oeuvre is constructed entirely by hand, and it is said (on unimpeachable authority) that no corner of the globe nor page in history's book is safe from her hunger for sartorial inspiration. Still, we have every expectation that ladies and gentlemen of a certain character will quietly flock to select viewings of her decadent finery. Mme. Kambriel has plied her trade with the delicacy required since 1994. Her designs have graced the frames of such cultural Brahmins as Evelyn Evelyn, The Machine in the Garden, Reliquary, Faith & the Muse, and Information Society; rumor even holds that Neil Gaiman has so far expressed his patronage as to wear Madame's special commissions to his affairs and to-do's, including the Academy Awards, the Sydney Opera House, the Carnegie and the Ig Nobel Awards. Given the sense of the theatrical that informs Mme. Kambriel's genius, it should certainly shock almost no one that her work has turned up in thespian milieux, both in film and on the stage – most notably, a production of Oscar Wilde's scandalous "Salome," a dance piece inspired by Edward Gorey, and a steampunk reimagining of "Twelfth Night." Ensembles of her creation have also lent their elegance to the Museum at FIT in New York City. It is useless to apply to this office for invitations, as all of ours seem to have been mislaid in the mail, but those whose salaciousness demands a further peep into beauties "betwixt today and timelessness" may find answer by making prudent inquiries at: www.kambriel.com"
Acid Poptart in custom gown by Kambriel featured on cover of Halloween issue of Alive! (Columbus, Ohio).
Kress, Brittany, "Halloween queen", Alive! (Columbus, Ohio), October 30, 2008.
Photo of Acid Poptart with caption "The Voodoo Baby Look – Dress: custom by Kambriel, click to kambriel.com"
Kambriel with friends in a Tampa Tribune (Tampa, FL) article on gothic fashion and culture at Convergence 14.
Kalfrin, Valerie, The Tampa Tribune, August 10, 2008.
Photo with Kambriel, Acid Poptart, and Jola with the caption "From left to right, Acid Poptart, Kambriel and Jola enjoy chatting and looking at jewelry during a clothing swap in a Tampa Hyatt Regency suite as part of Convergence 14, an annual Goth conference."
A custom commission by Kambriel is featured in an article on Harry Potter.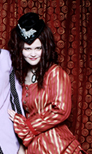 China Shop Magazine
Interview and photos
Kambriel interview by artist and journalist Molly Crabapple, for China Shop's "Artstar" feature.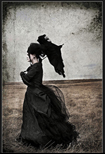 New York Times
Interview and photo
Kambriel was interviewed for a delightfully twisted article on the art and influence of Edward Gorey. It was an honour to have her work featured on the same page as Edward Gorey, Tim Burton, Helena Bonham Carter, and Lemony Snicket!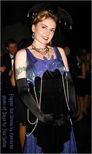 Boston Globe Magazine
Photo
Kambriel bespoke Gorey Bat dress photographed for Animal Rescue League's Moonlight Ball, featured in "The Clothes We Wear".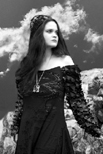 Dark Realms - Issue 31
Fashion Spotlight in Dark Realms!
Dark Realms Magazine (USA) features a lushly illustrated pictorial of Kambriel's designs.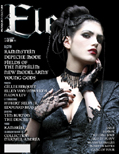 Elegy - Issue 38
Midnight ensemble on the cover!
Elegy magazine (FRANCE) issue #38. Kambriel's design work is featured on both the front cover, as well as an article within. Other featured artists in this issue include: Skinny Puppy, David Bowie, etc...!


Gothic Beauty - Issue 18
Three page interview with the designer!
Gothic Beauty magazine (USA) issue #18 features an interview with designer Kambriel.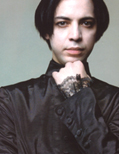 Gothic Beauty - Issue 17
Special Feature on Men's Fashion
Gothic Beauty magazine (USA) issue #17 featuring the best of men's gothic fashion, including Kambriel's designs.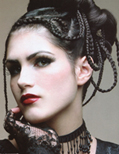 Gothic Beauty - Issue 16
Beauty Feature with Kambriel model Lilah
Gothic Beauty magazine (USA) issue #16 beauty feature with model Lilah in Kambriel's timeless Midnight Bustle design.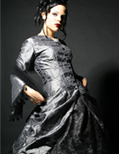 Gothic Beauty - Issue 15
Kambriel Crystal Palace ensemble on front cover
The front cover of Gothic Beauty Magazine (USA) issue #15 features model Jillian Ann wearing Kambriel's luminous silver neo-Victorian Crystal Palace Ensemble.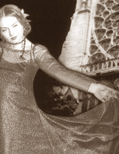 Dark Realms Issue 9
"Kambriel in Paris"
Elegantly illustrated feature article in Dark Realms Magazine (USA) on designer Kambriel in Paris, France.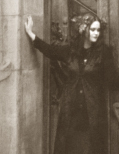 The Sentimentalist (Volume III Issue X)
"Nouveau Parisienne"
Accompanying historical text from 1911, this fashion pictorial showcases Kambriel alongside inspirational Parisian Art Nouveau architecture.
Also found in this issue is Kambriel's article on the Edward Gorey House.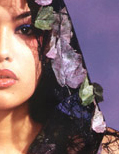 Tear Issue 4
"Betwixt Today and Timelessness"
Artistic fashion editorial showcase alongside an interview with Kambriel.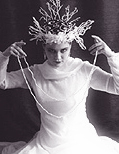 The Sentimentalist(Vol II Issue VIII)
"Diva Primavera"
Fashion editorial featuring one of a kind ethereal gowns and millinery by Kambriel ~ this time all in spectral white.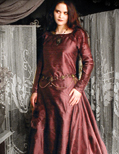 The Sentimentalist(Vol II Issue VI)
"The Aesthetic Dress of the Pre-Raphaelites"
Kambriel's musings on the artistic fashions of the pre-Raphaelite era, accompanied by bespoke pre-Raphaelite inspired gowns made from lustrous woven silks and jewelry by Parrish Relics.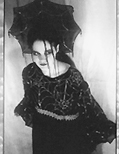 Carpe Noctem (Issue XV)
"Atrocities: The Grand Guignol of the Fashion World"
Designer feature written by Monica Richards of "Faith & the Muse".

If you would like to feature Kambriel's designs in your publication,
feel welcome to contact us!