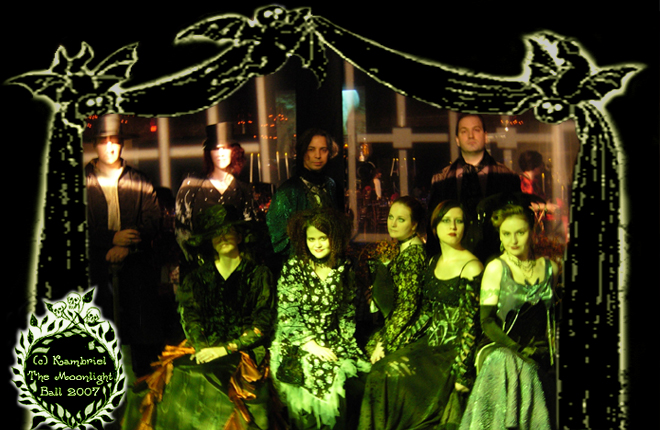 The evening's entourage, shown here from left to right:
Back row: John, Kelly, Curse, Mathew
Front row: Kate, Kambriel, Regina, Tatiana, Tonya

The Moonlight Ball was held within the spacious Cyclorama on October 20, 2007 in Boston, Massachusetts as a grand event to benefit the Animal Rescue League. The surroundings had been magically transformed into an eerie mansion from a bygone era, with spectral window frames glowing upon the walls, motifs of blood red roses, earthy mushrooms, and glistening ice. Tables were set with an abundance of yet more roses, black candleabras draped with long strands of crystal, and red crushed velvet seats ~ creating a vignette that would have been perfectly suited for scene straight out of a Tim Burton wedding.
Centered around a Victorian Halloween theme, Kambriel was invited to add atmosphere to the event with her Gorey-esque models who kept in character and mingled throughout the crowd and helped with the silent and live auctions to raise funds for the ARL. The night was a huge success ~ especially for a first time event, and we were deeply honoured to play our part in it!
Proceeds from the event will support the Animal Rescue League's unique mobile initiative to serve animals and people with on-site adoptions, subsidized spay/neuter programs, and secure and comfortable housing for animal victims of disaster, cruelty or neglect throughout New England.
Click on the preview photos below to see larger versions!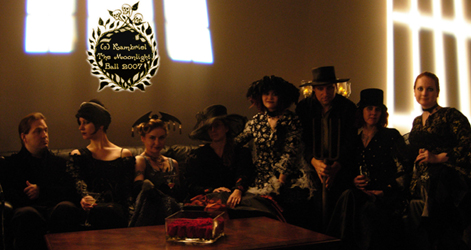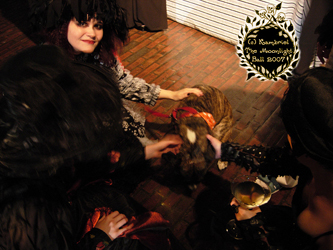 Please click on the image below to visit the ARL website and learn more about
all the good they're doing for animals ~ both in the Boston area, and internationally!


If you'd like to have a commemorative piece of artwork from the event and support the Edward Gorey Charitable
Trust and Animal Welfare at the same time, you can purchase a limited edition Cel,
direct from the Gorey House by clicking on the image below: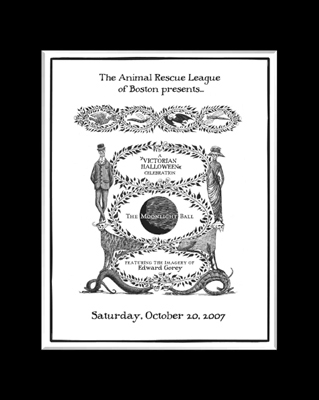 Keep an eye out for a future Moonlight Ball, it is certainly an experience and cause worth supporting
and hopefully one that together we can turn into an annual tradition: