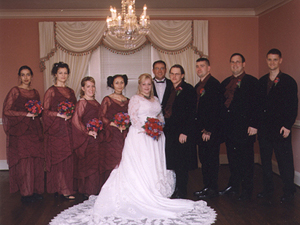 Wedding ensemble with bridesmaids in custom Enchantment Overdresses and Petticoats. The Groom wears a Gorey Jacket, Flounce Shirt,and matching Pants, and groomsmen who wore velvet Midnight Jackets, velvet pants, and Flounce Shirts. Circa 1998.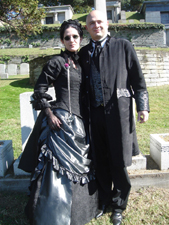 Jason, the dashing gentleman in his custom Frock Coat made from black bengaline with silver skull brocade accents, standing alongside his beauteous wife Kat. Circa 2007 ~ Philadelphia, PA.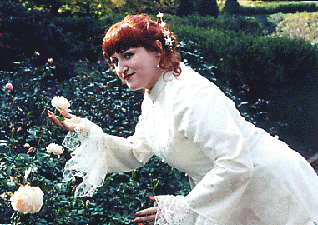 Jola on her wedding day in Chicago, IL in 2001 wearing an ivory "angel brocade" customized Opiate Jacket, and ruffled Victorian walking skirt (not shown in photo). Read her review of the outfit.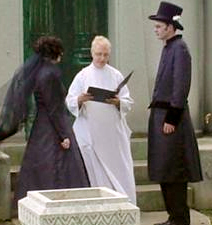 Lisa on her wedding day in May 2009, wearing an Isabella Coatdress while her husband-to-be wears the Brocade Frock Coat.