~ Presenting captured moments in time from the very special Phoenix Parade fashion show ~
All Photos by Circle 23.

Act 1 - "Tea Party in Wonderland"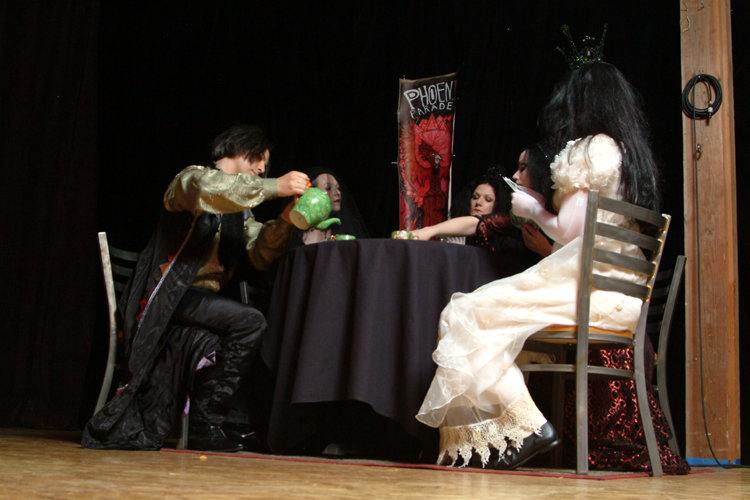 The Phoenix Parade opening act by Kambriel was a dreamlike Alice in Wonderland inspired "tea party" fashion show performed to "White Rabbit" by Collide.
For this show, we had a table on stage, set for langorous tea and an enchanting game of cards. The atmosphere was of an Opiated dream moving in slow motion, silently interacting with eachother, while one by one each of the models arose...

| | | |
| --- | --- | --- |
| Ruby in the Black Orchid princess dress in a mixture of black satin, and deep shimmering purples, with ornate black organza cut work on the bodice. | Tanya as the Caterpillar Girl in ivory organza lined in light as air, textured vintage Japanese kimono silk, with tea dyed bridal lace and dimensional embroidered and appliqued Cala lilies. Absinthe crown by Vampyre Mermaid. Overall design is based on our Wisteria Gown. | Curse as the man on the chessboard, wearing a shimmering Absinthe pleated Aramis Shirt, dripping black net Jabot, spat pants, and a long, flared vest trimmed in a variety of hand-pressed fabric points. |
>
Amaranthe as "The Red Queen" fluid metallic red gown with flared sleeves and side train. Evil queen crown by Vampyre Mermaid.

Ornamentally pleated black silk embroidered with vines and hand sequined opalescent, sparkling spiderwebs. Crystal tophat by Vampyre Mermaid.

Another view of many bustled ruffles made of Fortuny pleated organza, individually trimmed in black sequins and pointy lace.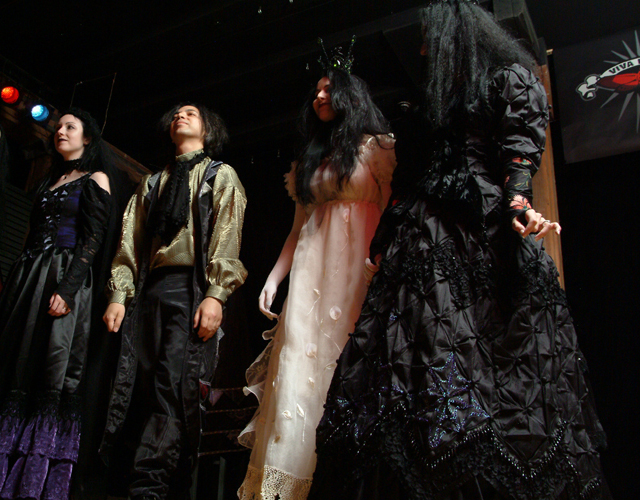 The Finale - "Dolls Escaped from the Asylum"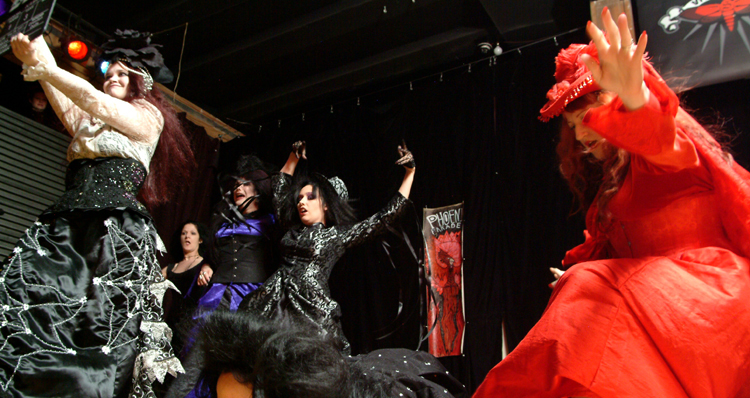 The Phoenix Parade fashion show grand finale was performed to "Girl Anachronism" by The Dresden Dolls.
Kambriel's vision for this show was to be a scene from a movie about lunatic fancy-dressed dolls, freshly escaped from the asylum.

| | | |
| --- | --- | --- |
| Curse as the director in a velvet Frock Coat with aged and tattered, hand dyed black overlay. | The magnificent Jola as "not the carefullest of girls", in a crimson silk Parisian Bustle Skirt, red velvet Mirella Top, and a Hooded Cape in scarlet lace embellished with row upon row of gathered satin. This lace and satin cape is currently available as a limited edition in either solid red or black ~ email for more info. | Elyse as the girl who was "let out too soon", wearing a royal purple and black Midnight Bustle ensemble, trimmed in lace, with a swirled effect Parisian Bustle Skirt. |
| | | |
| --- | --- | --- |
| Kambriel who "might join your century, but only on a rare occasion", wearing the Scylla Bustle Skirt, with one of a kind beaded corset and ivory lace Victorian styled top and rose pearl headdress. | The Luna Bustle Jacket as worn by Lady Amaranthe, accented with mother of pearl crescent moons, and ethereal ruffled black, ivory and silver layered Waterfall Petticoats. | Anastasia as the "doubtful guest", wearing a silver and black Shadow Puppets Jacket and coordinating satin Parisian Bustle Skirt. |
| | | |
| --- | --- | --- |
| Jola as the lady in red | Curse and Kambriel with the director's board. | A packed house! |
You are welcome to read more about this show's history and growth here:
http://community.livejournal.com/phoenix_parade/