~ Kambriel Steamcon II Fashion Show in Seattle ~

Presenting the onstage photos from our Steamcon II Kambriel fashion show in Seattle, WA! The song we performed it to? Aqualung by Jethro Tull... yes, really (though our version was minus the long guitar solo thanks to our friends Summer and Roger kindly remixing it for us)! Feel free to play this in the background whilst you're looking through the photos/reading the descriptions to get a bit more of the full effect: I'll likely do a follow up post with some backstage antics as well, but starting things off for now are the runway photos courtesy Amber Clark Copyright 2010 Stopped Motion Photography, www.stopped-motion.com. You can see their own blog post from the event here: http://blog.stopped-motion.com/?tag=/steamcon

On to the Show!

Alex, in a full length, modified version of the Gorey Coat, with inverted pleating in the flared back, and made from foliate brocade with an antiqued silver/bronze patina, fastened asymmetrically in the front with an oversized knotwork closure, accented with a crocheted lace Havisham Jabot and Crocheted Cuffs atop a black Italian linen Bastian Shirt: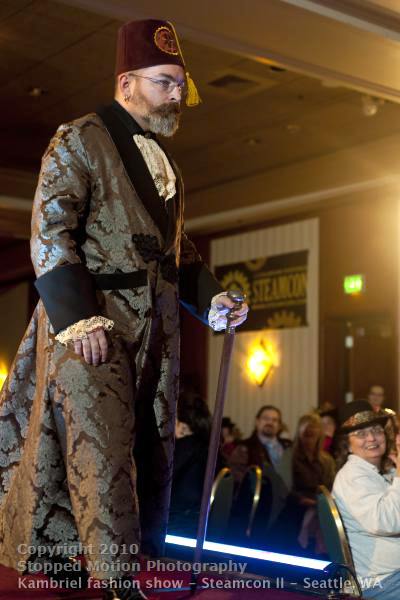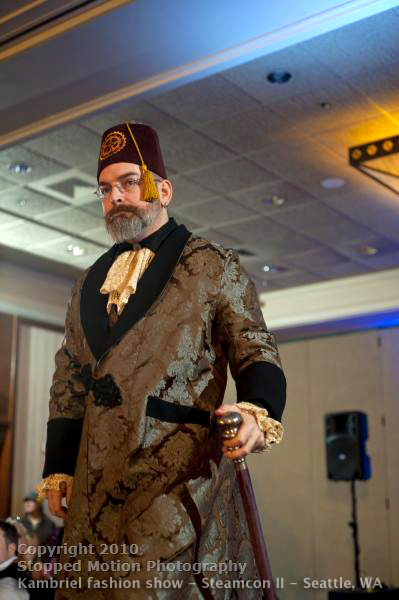 Ashia in a copper and gold Cabaret Bustle Ensemble, with bias flounced ruffles: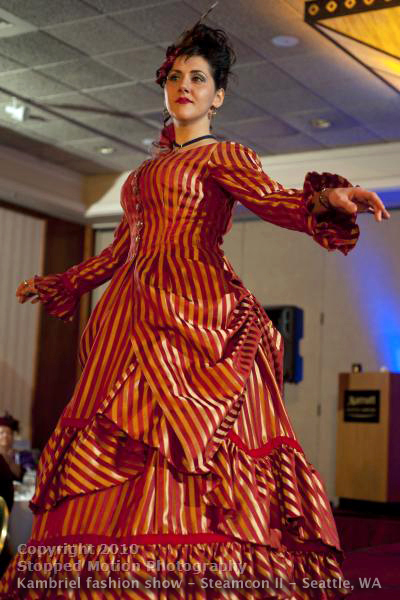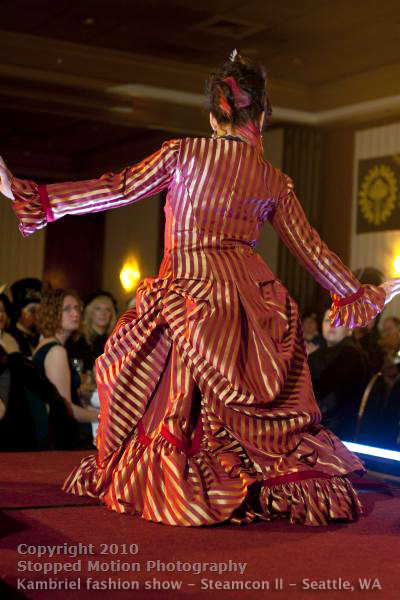 Gwen in an ivory georgette Demonia Blouse and fringed choker, worn with a panelled skirt made from forest and tone on tone ivory brocades, and hemmed in hand-cut lace: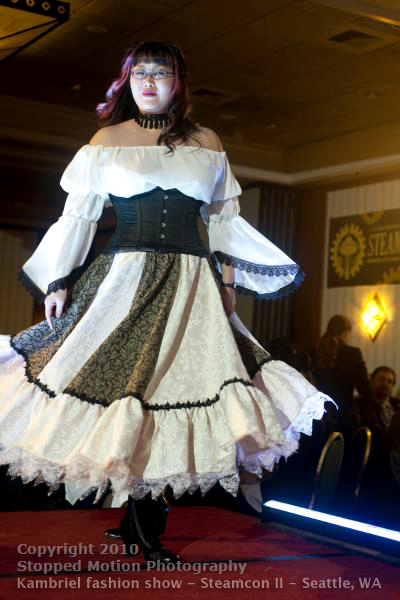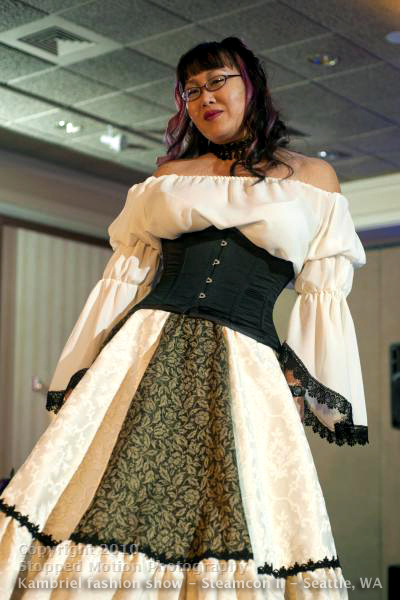 Cherie Priest in a violet and black striped Eleanor Jacket, worn atop a ruffled walking skirt made from iridescent plum silk with an overlay of black lace, Chantilly neck ruff, and feathered raven headpiece: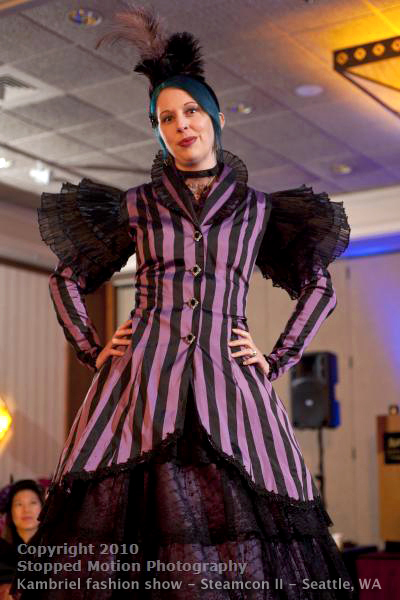 Curse in an orientalist brocade capelet, with an ivory silk Aramis Shirt, Havisham Jabot, and long sepia Gryffin Waistcoat: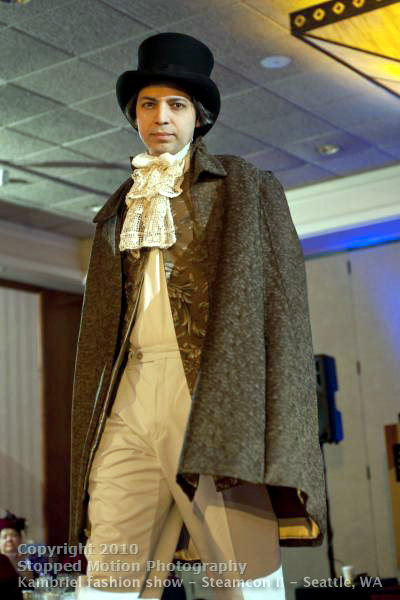 Kambriel in a gown made from a combination of alternating silver and black striped silks edged in pleated satin, with panels of solid black, and a heavily beaded and sequined bodice: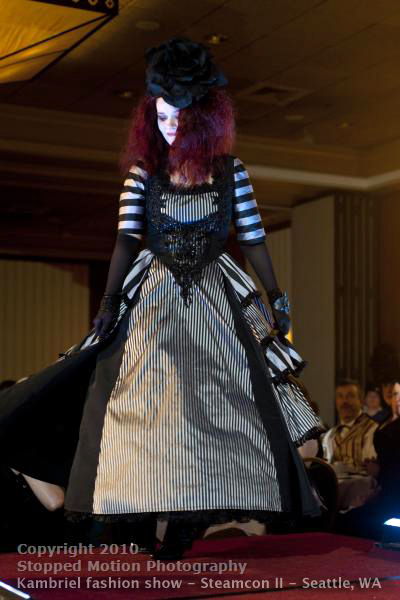 Kevin in a full length Cassock styled overcoat made from black embossed faux alligator trimmed in the back with vintage silver buttons, along with a striped silver and black silk Bastian Shirt: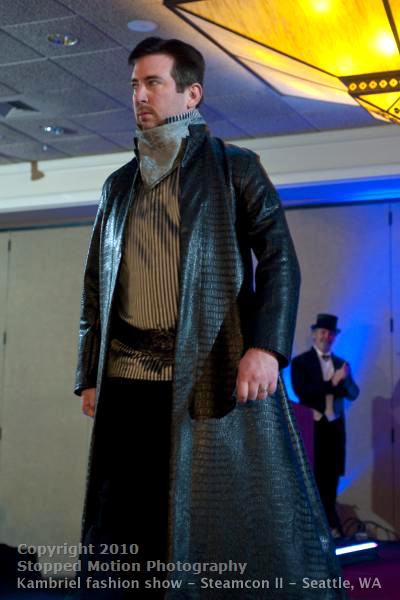 Veronique in an Edwardian inspired dress made from antique black embroidered Japanese eyelet, framed in vintage crochet at the neckline and shoulders, trimmed in black tasseled fringe, and an applique featuring art by Aubrey Beardsley, worn atop a flock velvet striped black and cream underskirt: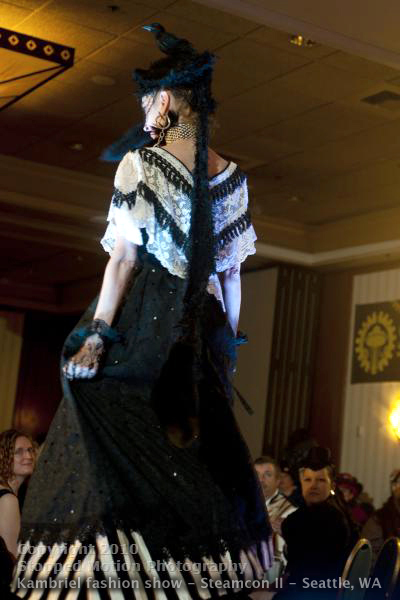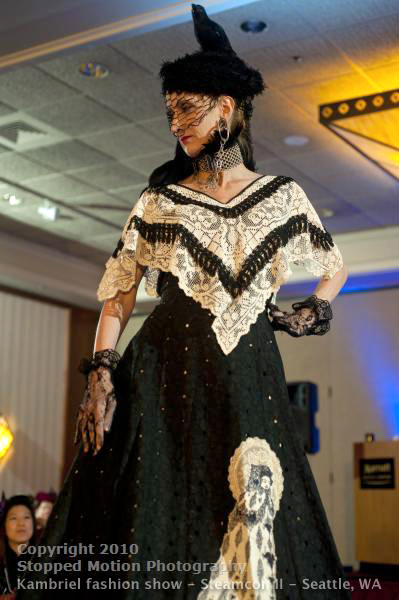 Cherie and Lisa during the final parade down the runway: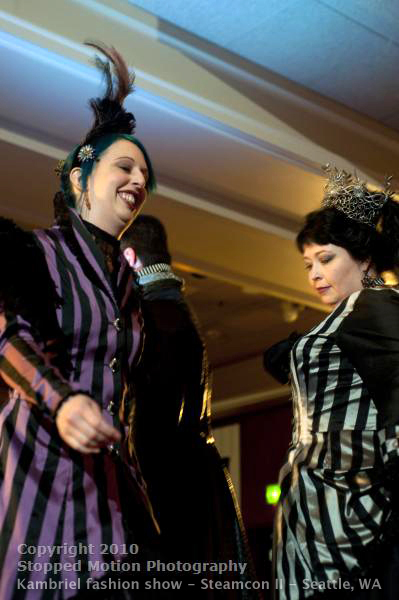 We hope you enjoyed the show!