Click here for photos from the exhibit's opening night
Press links and images added below!
It is a deep honour to announce that some of Kambriel's designs are included in the current museum exhibition: "Gothic: Dark Glamour" hosted by The Museum at FIT in New York City. A companion book by the show's esteemed curator, Dr. Valerie Steele, is being published to coincide with the show (and excerpts from the interview Kambriel did with Valerie Steele can be found within its pages), so those of you who are unable to attend should still see about getting a copy, as it's bound to be something special.
"I'm delighted to know that this scene I've called home for so long is getting some well-deserved recognition in the form of a major exhibit showcasing what I've known personally for years ~ there is an exquisite and decadent, timeless beauty that can be found within the Gothic aesthetic. Being invited to take part in this exhibit, after having spent the majority of my life creating things of beauty for those who love this aesthetic as much as I do, means so much to me." ~ Kambriel
Some of the other designers participating in the exhibition are: Givenchy, Christian Lacroix, John Galliano for Galliano, Olivier Theyskens, Alexander McQueen, Rick Owens, Shaun Leane, Simon Costin, Simon Thorogood, Shelley Fox, Thierry Mugler, Hussein Chalayan, Valentino, Yves St. Laurent, Yohji Yamamoto, Comme des Garcons, Rodarte, Gattinoni Couture, Boudicca, and Ann Demeulemeester, along with a number of private collectors and some Museums.
From the FIT website: "An introductory gallery will focus on the origins of gothic style, which have inspired both designers and goths. The Victorian cult of mourning, for example, will be illustrated by actual mourning dresses, veils, and momento mori jewelry. The main gallery space will be designed as a labyrinth, featuring iconic themes such as Night, with black evening dresses; the Ruined Castle, with fashion inspired by gothic images of the Dark Ages, ruins, and fragments; and the Laboratory, where futuristic fashion "monsters" are created. Other themes include Veils and Masks, Mirrors, and the Haunted Palace – the last of which draws on Edgar Allan Poe's architectural metaphor for a disturbed mind."
The exhibition dates are scheduled for September 5, 2008 - February 21, 2009 (please be sure to note the galleries are closed Sundays, Mondays & official holidays). If you'll be in NYC, do try and make a point of stopping by to enjoy the exquisite work this exhibit will be highlighting, and the fine Gothic aesthetic it celebrates!
For more information, you may access the Museum's *fantastic* Gothic exhibit website.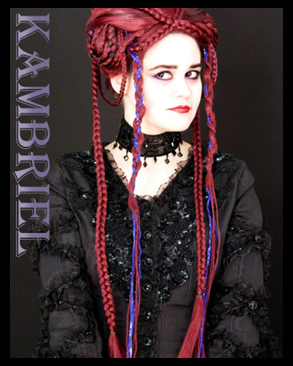 Portrait of Kambriel in her "Magia Nera" outfit.
The "Gothic: Dark Glamour" book, for which Kambriel was interviewed by Valerie Steele, is
available to order from Amazon ~ click here if you'd like to order a copy!
Press Coverage:
To celebrate the opening of Fall Fashion Week in NYC, as well as the gala opening of the "Gothic: Dark Glamour" exhibit, Time Out New York ran a feature showcasing independent gothic fashions, including Kambriel's Midnight Bustle Design.
The caption reads: "CORPSE BRIDE: Black widows can go for a modern spin with this brocade-and-lace-gloves ensemble by Kambriel, on view at FIT."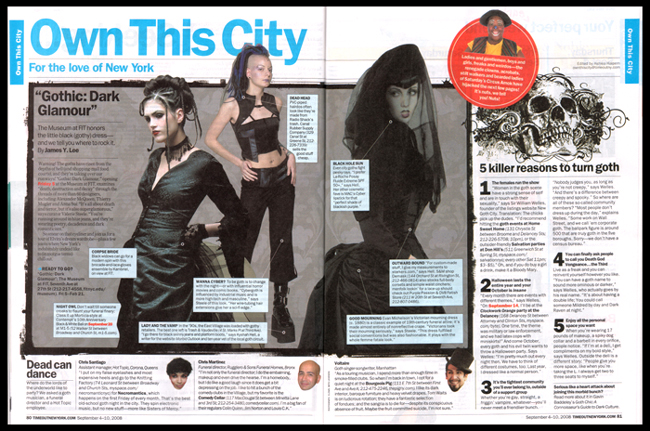 Here's part of the FIT brochure, and some of the original images within.
The caption reads: "Contemporary Goth styles run the gamut from Victorian/romantic, such as this dress by Kambriel, to futuristic cybergoth. Photograph Nadya Lev, courtesy Kambriel."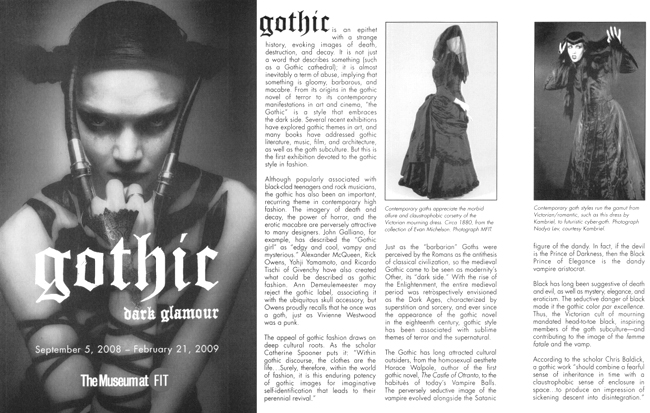 Red Carpet photo of Kambriel! (from GuestofaGuest.com):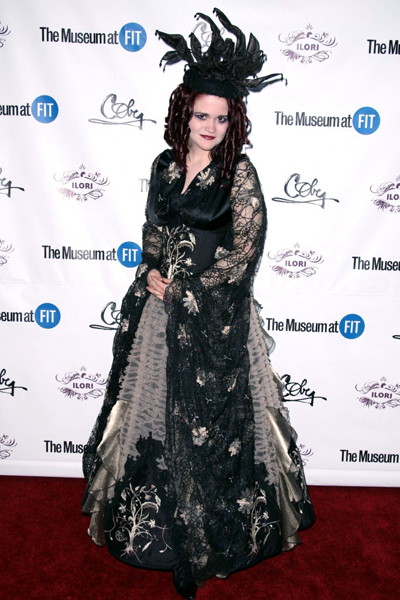 More photos by the same photographer, including one of the lovely Miss Valerie Steele: Guest of a Guest.
Article highlighting some of the pieces from the exhibit, with Kambriel's work included amoungst them!
New York Society page
Fashion Week Daily
Similar article, with link.
A bit more in-depth.
Online version of Time Out New York
Elle.com
Press coverage from Brazil
Front Page of national Canadian newspaper "The Globe and Mail"'s arts section!
~ Click here for more photos from the exhibit's opening night ~