Inspired by the works of beloved illustrator of the macabre Edward Gorey, Snappy Dance Theater created "The Temperamental Wobble" as a special commision of FleetBoston Celebrity Series. One important aspect of Snappy's work is the layering of humor with the dark aspects of human nature, which is exactly what Gorey did in his own medium. Kambriel was honoured to be asked to create the costumes for this thrilling performance, and to have helped bring these illustrations to life!
Excerpts of scenes from "The Temperamental Wobble":
Graveyard Scene ~ The shrouded widow in mourning accompanied by her own shadow, visits her beloved's gravestone.
A heartbreaking scene, until her shadow and the soul of her beloved reunite in a tragically romantic end.
Costumes: This scene included a pale grey A-line dress with Gorey-esque black velvet flocking, with the shadow wearing a matte black jersey dress with extra long everything to pool around the floor and matching thickly veiled hats.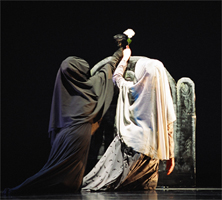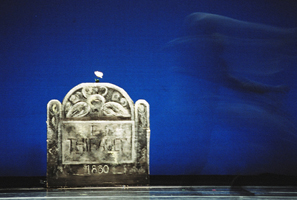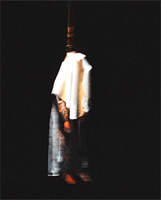 Vaudevillians ~ Wouldn't it be a disgrace if we didn't throw in a few random circus performers?
Little do they know the horror that awaits them...
Costumes: Stretch velvet Edwardian inspired unitards and skirted leotards in fiery earthtones.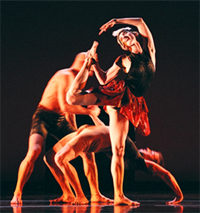 The cousins ~ With moustaches and long trailing skirts,
"They were cousins (or so each asserts)."
Costumes: Billowy white cotton Aramis shirts paired with full circle skirts made in double layers
from contrasting-shaded watercolour fabrics for an irridescent effect.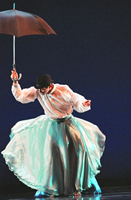 Umbrella Heads ~ Inspired by Gorey's characters "The Prune Heads", there is no telling
what the Umbrella Head People will do as they cross paths and interact.
Costumes: The starkness of white unitards paired up with white umbrella-shaped hats scalloped to echo a bats wing.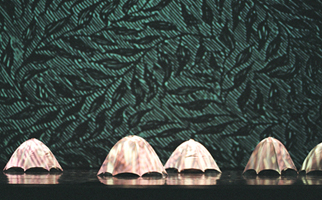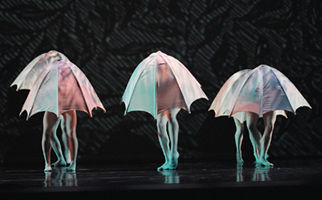 The Lavendar Leotard ~ Conceived from the Gorey story of the same name, The Lavendar Leotard features ballet inspired by Ballanchine, whom Gorey was an avid fan of for many years. The ludricrous ending was inspired by many of Gorey's illustarions, which portray objects flying away, like a moustache, or an urn, or a dismembered body ~ that sort of thing...
Costumes: In shades of lavender and black, the gent wears a ribbed velvet bolero vest accented with black bat soutache trim, and the lady wears a leoptard with a multi-layered tutu accented with ribbons and Victorian era silk flowers.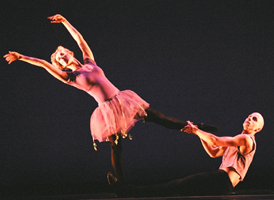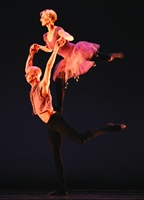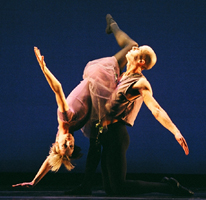 The Playful Monster ~ Gorey had many fascinating creatures in his stories. Some were dangerous like the Wuggly Ump, and some were simply charming like the Posby! This scene features a creature that is somewhere in between, as it crashes a party, befriends a neglected little girl, and wreaks its own brand of shape-shifting havoc!
Costumes: The little girl wears a pair of ivory bloomers underneath her pale buttercup-flounced dress, while the monster is wearing an striped suit made from orange and white spandex complete with matching Tweedle hats.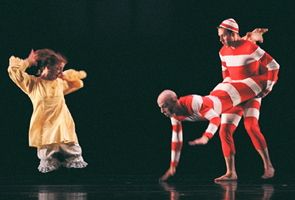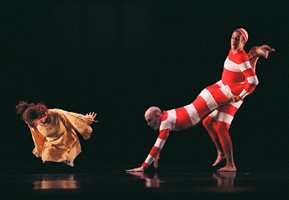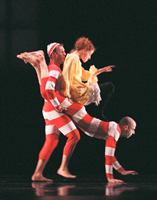 The Dysfunctional Family ~ Family life isn't always rosy, sometimes having a monster around can help.
Costumes: The wife vamps in her 1920's style dropwaist LuLu dress with black georgette handkerchief hem and dark purple velvet body, while the husband sulks in his black matelasse Smoking Jacket with purple velvet accents and sash. Their neglected daughter is still clinging to hopes of innocence in her buttercup dress and ivory lace-trimmed bloomers.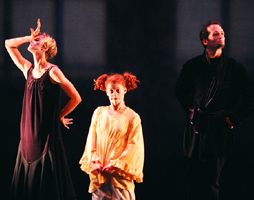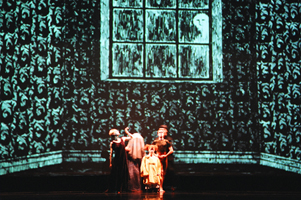 The Tea Party ~ So we lose a few guests along the way... sometimes you can't help things like that.
Costumes: The men are coordinated in matching Edwardian-style white shirts and waistcoats made from a variety of
fine silks, while the women arrive exotically wearing their shimmering gowns and feather, net and lace headpieces.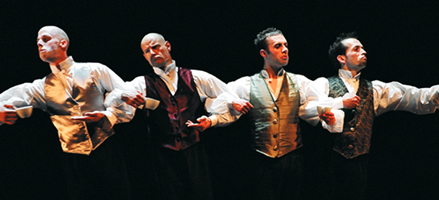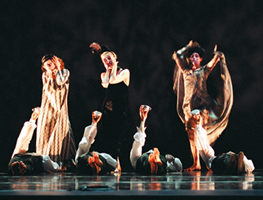 The Evil Garden ~ "The Evil Garden" is straight from the title of a Gorey work about malicious plants and innocent
people worthy of B-movie material. Shadowplay is used to create carnivorous living florae and creepy forests.
Costumes: Closely fitted unitards embellished with organically shaped, hand-cut and stiffened pieces
along with horned branch-like headpieces and gloves, fulfill the horrifying shadowplay.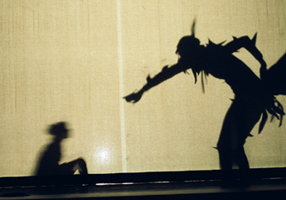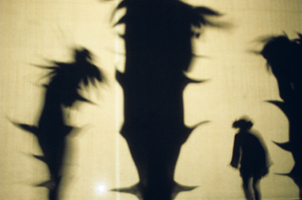 Views inside our venue, the stunning Cutler Majestic Theatre!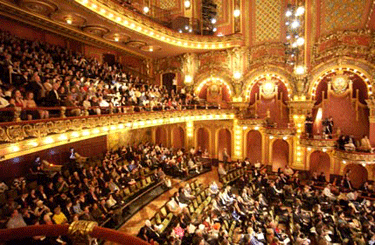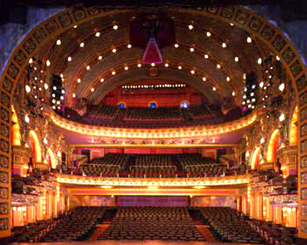 The home of "The Temperamental Wobble" world premiere is the recently restored Cutler Majestic Theatre.
Built as an opera house in 1903, known for it's opulent interiors and magnificent stained glass windows,
the historic Cutler Majestic Theatre is located at 219 Tremont Street in Boston, MA.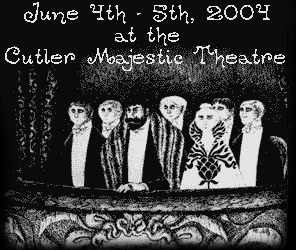 Reviews:
"A dance that is as thought-provoking, compelling and masterful as they come...utterly absorbing...
some of the most powerful and yes, chillingly visual poetry I have seen."
-Ted Medrek, The Boston Herald, June 2004

Click here to read our write-up in the Boston Globe!
Boston Herald article - "Gorey makes Snappy comeback"
Boston Herald article - "Snappy Dance evokes Gorey terror, wonder"
Keep informed about upcoming performances and tour dates by visiting the Snappy Dance Theater website!